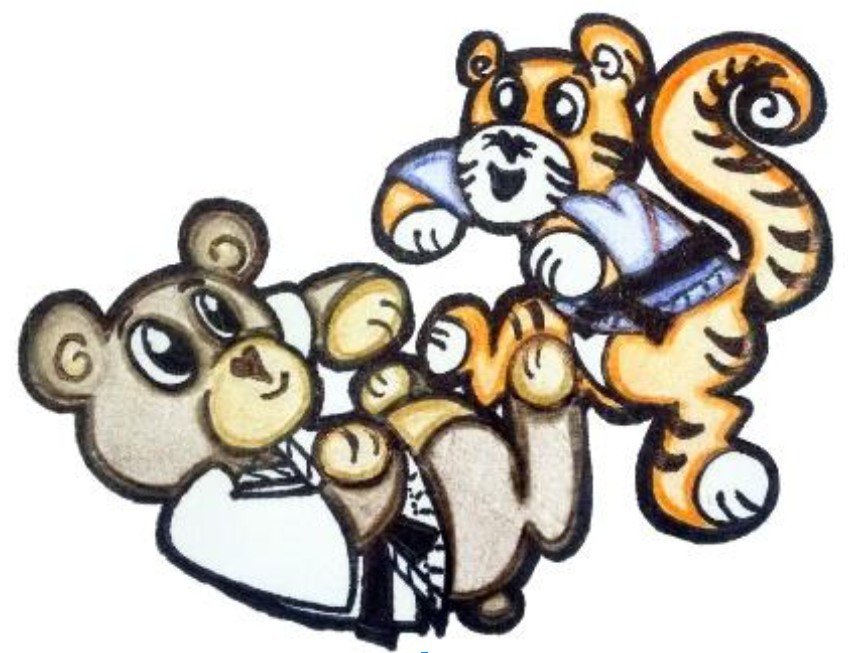 This is a Judo Ontario Sanctioned Event.
next competition perhaps 2022

Online registration: opens one week before the competition.
to register your child click here. Opens at 1 PM on Saturday, November 9th, 2019. Closes when full.

to volunteer please click here.

You will receive a confirmation email immediately. If not, please check your junk or spam email. If you cannot find the confirmation email, perhaps you mistyped your email address. Just try again.
Required information:
*Child's first and last name
*year of birth 2008 to 2012 inclusive.
*child's Judo Canada number which will be checked before the competition.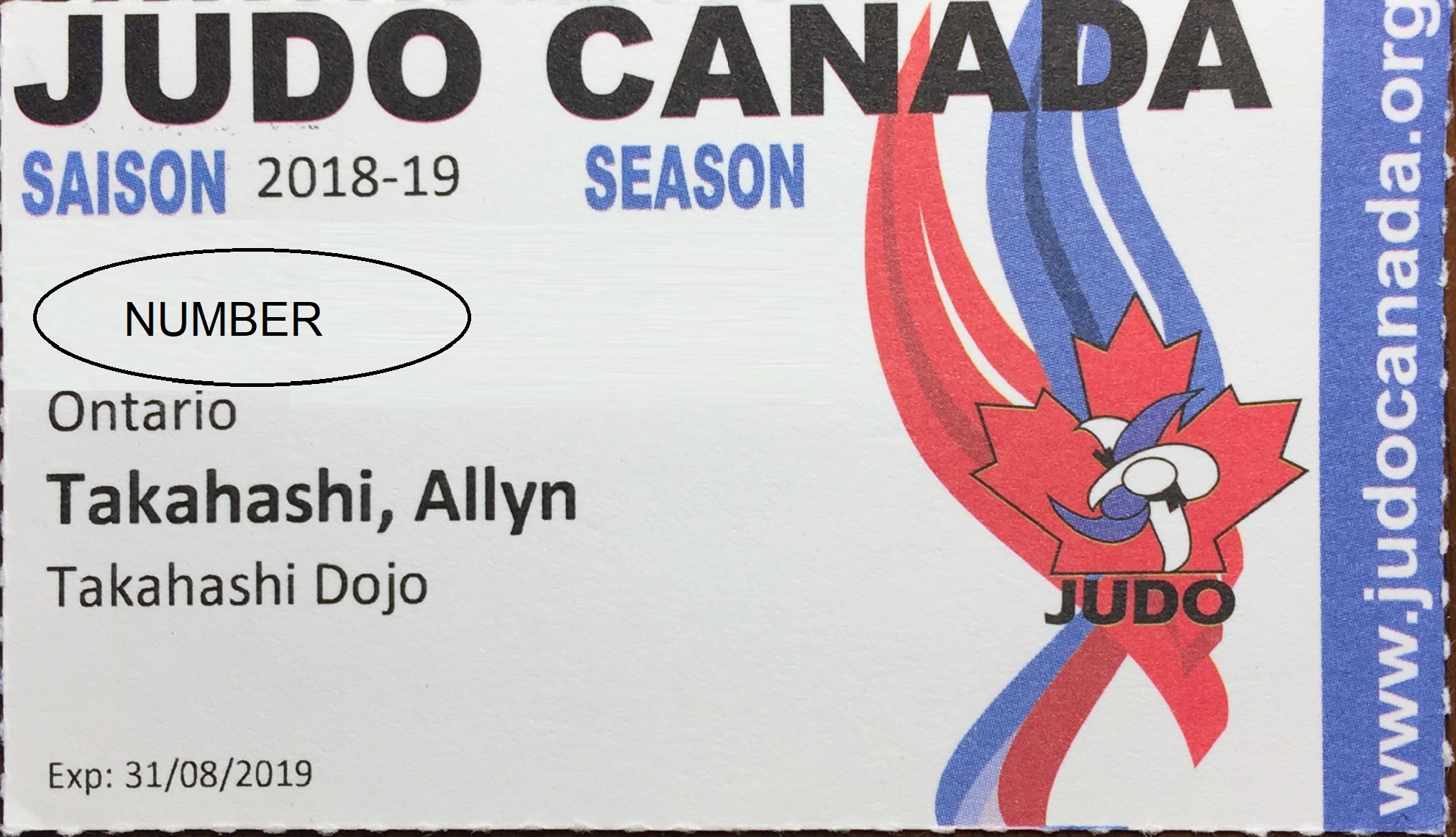 *Judo club name.
*Agreement to waiver by entering parent's full name and email address
*Registration fee: $20 per child (when paying by INTERAC e-Transfer, please enter your child's name in the comment)
Competition day:
12:15-12:45PM Competitor check-in on the 1st floor. Please arrive in this period.
12:30PM Referee, scorekeeper, and timekeeper briefings 2nd floor.
12:30PM Children's rules briefing on 1st floor.
12:45PM Team selection 1st floor. Do not be late.
1:00PM Opening Ceremony
4:30PM (approx.) photos, medal presentation, closing ceremony
4:45PM cleanup
* Parking may be extremely difficult to find. Please dress children in their judo-gi at home. We suggest that you drop children off at the intersection of Melrose and Wellington, then look for parking. There will be a dedicated room in the basement for coats and boots. This will be locked during the competition (but open during the snack break).
* We invite brown and black belts to participate as a "volunteer referee." A white gi is preferred, but not mandatory. A certificate will be issued for your records. Green and blue belts also may volunteer, but priority goes to brown and black belts.
* There will not be a rules briefing after the opening ceremony. Please refer to "Simplified rules for newaza" below. If you have questions, please attend the referee briefing at 12:30PM.
* Please bring your own snack to which your child is familiar. Your child must stay with the team. Parents should have the snack with the team.
* Normally, drinks and food are not permitted on the tatami. For this tournament, this rule will be relaxed. However, drinks must have a lid. Please do not step onto the competition area. Please do not block the doorways. No slippers on the wooden floor. Do not sit with legs extended.
* A white judo-gi is preferred. Your child will not stand out in a photo. Also, because we use red and blue belts to distinguish competitors, having a blue judo-gi confuses the scorekeeper. Your child may wear a blue gi only if you do not own a white judogi.
* Your child is arranged in the team based on height. This order may be changed in case competitors are from the same club.
* Referee is responsible for the timely running of the matches and will declare a forfeit or postpone the match to the end of the round in order to move on. Please do not ask for rematches.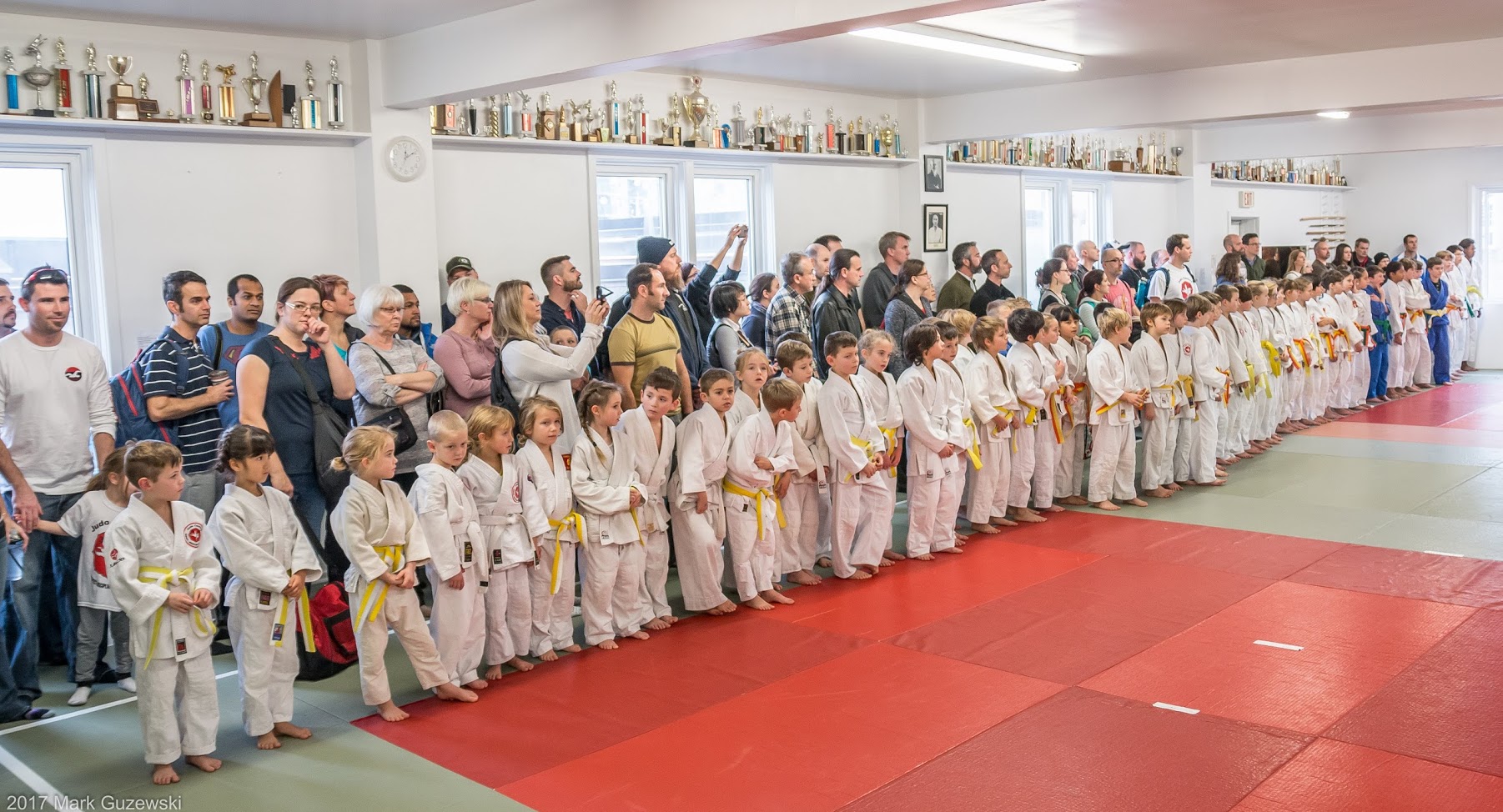 SIMPLIFIED RULES FOR NEWAZA COMPETITION
Competitors bow onto mat, then bow in seiza. Both start with both knees down, or right knee up.
Two minutes per match with no stop time.
Wazari is awarded for a 7 second hold and Ippon is awarded for a 15 second hold.
The competitor with the most Ippons wins a point for their team. In case of no Ippon, then the competitor with the most Wazaris wins a point for their team. In case of neither Ippon nor Wazari, hikiwake is called and neither team gains a point. The team with the most wins is declared the winning team by the referee (round win). The team with the most round wins is declared the competition winner and will receive a medal. If there is a tie, then the most number of match wins, followed by number of ippon, followed by most number of waza-ari will be used as tie-breakers.
All osae-waza permitted, excepting turnovers using sankanku or any joint immobilization.
Hold-downs may not include shime-waza (i.e. during kata-gatame) or smothering (i.e. during kami-shiho-gatame). In the event a choke/smother is evident along with the pin, the referee will call sono-mama and adjust the pin to ensure unobstructed breathing, or relieve neck/spine pressure.
Escape from kesa-gatame by turning away from tori is not be permitted. Referee will put competitors back into position, and uke will be instructed to turn in the other direction. This is because turning away causes uke to choke himself or put his own shoulder into a lock. If chokes and armlocks were permitted, then uke would never turn in that direction.
Referee will call matte if there is no newaza progression and warn competitors to try harder.
Competitors should always have at least one knee on the mat, unless they momentarily stand to pass guard or to attack the turtle from above.
No pressure may be exerted on the arm by pulling it behind the opponents back. Hair pulling and face-touching are also prohibited.
If a competitor cannot continue the match for any reason (i.e. injury, crying, exhaustion, etc.) the match will be awarded to their opponent as a full point.
To save time, competitors are discouraged from shaking hands at end of the match. The bow will suffice.
Referees will watch for overly aggressive behaviour, excessive roughness, etc., and not hesitate to remind competitors to fight cleanly and technically. Failure to comply will result in a penalty.
Spectators and coaches will remain silent and hold applause until the end of the match. This forum is designed to encourage team spirit, individual confidence, and a positive space for all young judoka to learn and grow.
Arrival at Takahashi Dojo 5 Melrose Avenue.
Please bring a bag to keep your child's belongings. Do not bring earrings, studs, rings, bracelets, etc.
Takahashi Dojo is a one-way street Northbound. The dojo is within sight of Wellington West, so you can drop your kids off at the intersection of Melrose and Wellington West. Then go find parking on one of the side streets off Wellington. Parking hours on the side streets refer to Monday to Friday, whereas the tournament is on Saturday, so parking more than 2 hours is permitted. Wellington parking signs include the weekend.
If your child is already dressed in her judogi, then he or she can go to the cloakroom in the basement, then to check-in on the 2nd floor.
There is a toilet on all 3 floors, with separate toilets in the basement change rooms.

Volunteers:
1. Referees
2. timekeepers (please bring your phone set up with a timer)
3. scorekeepers (keep track of wins, ippon, waza-ari)
4. facilitators
5. team coaches
6. clean up crew
7. moving tatami
8. photos
Please arrive by 12:15 for your assignments and briefing.

Protocol:


Team selection: Line up by height.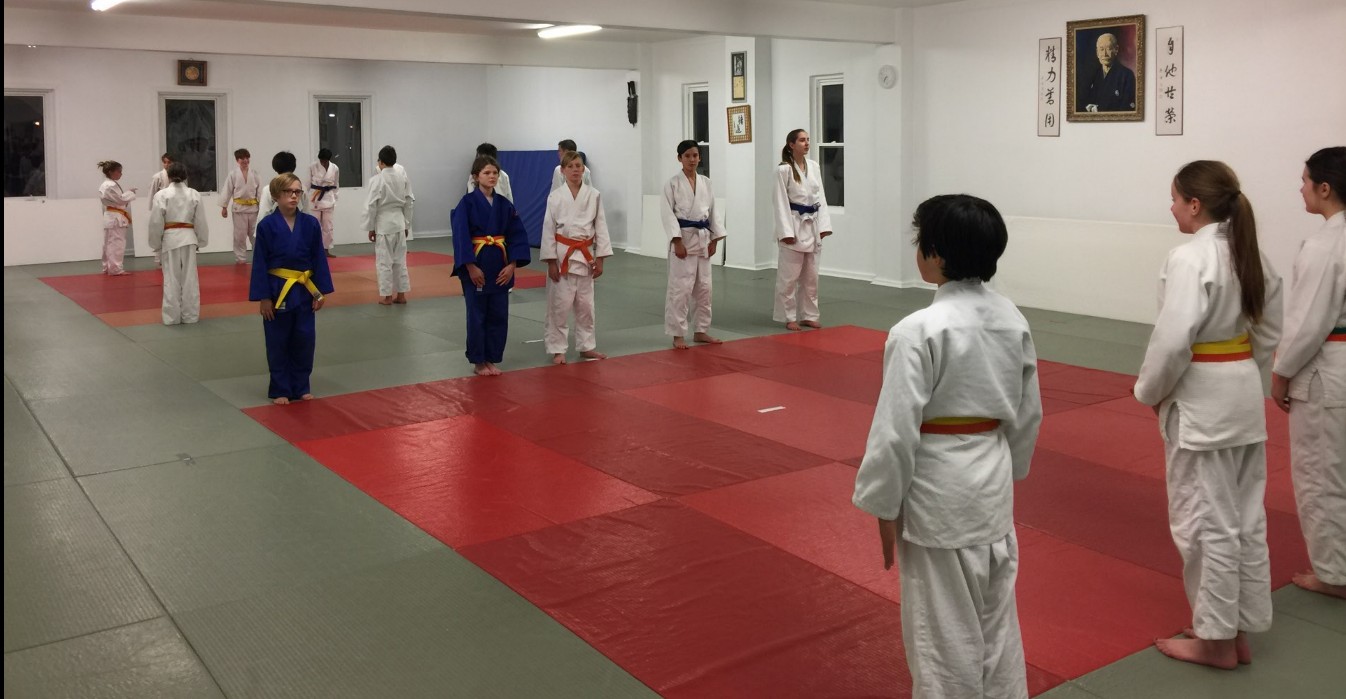 Teams line up.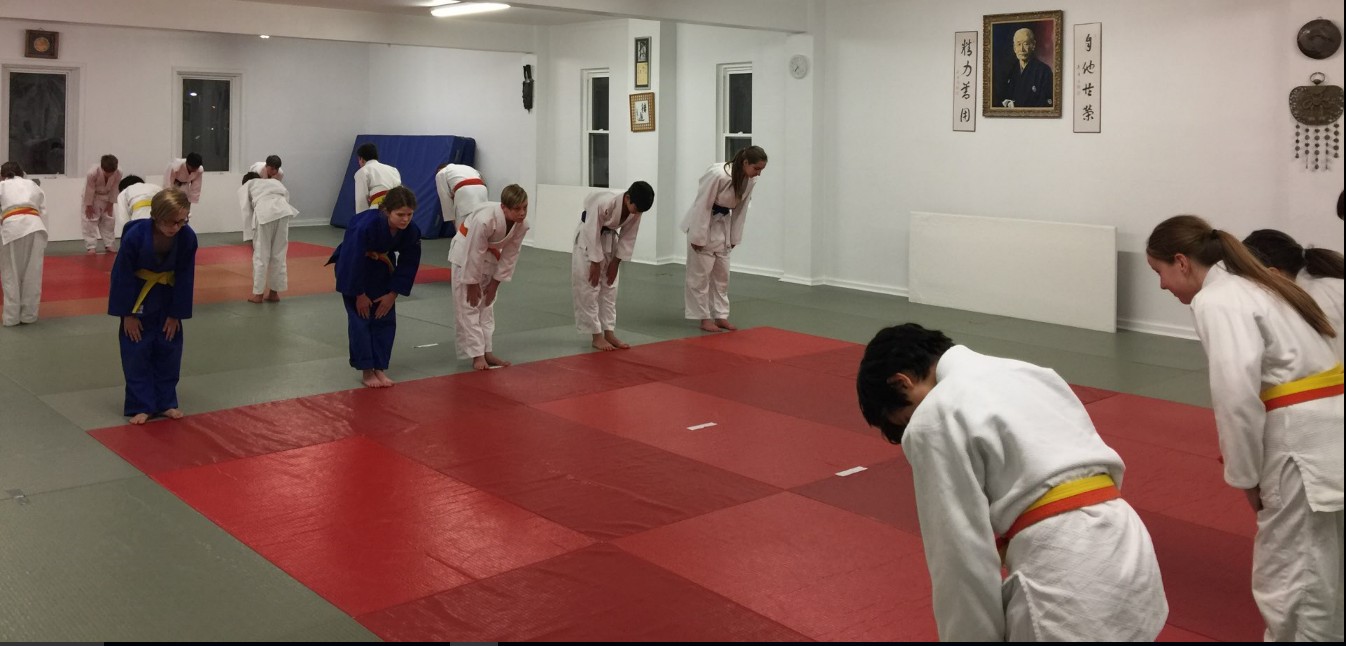 Teams bow to each other.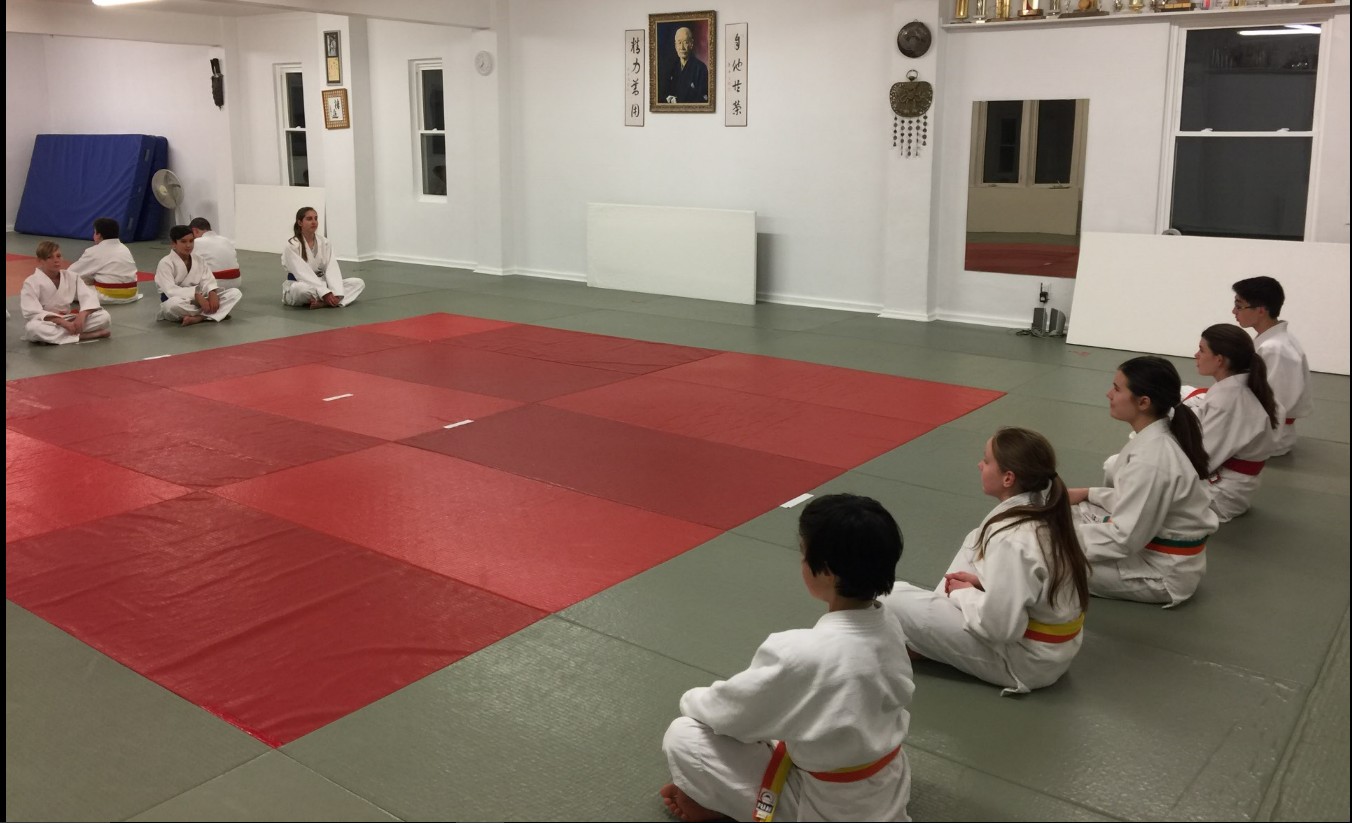 Teams sit cross-legged.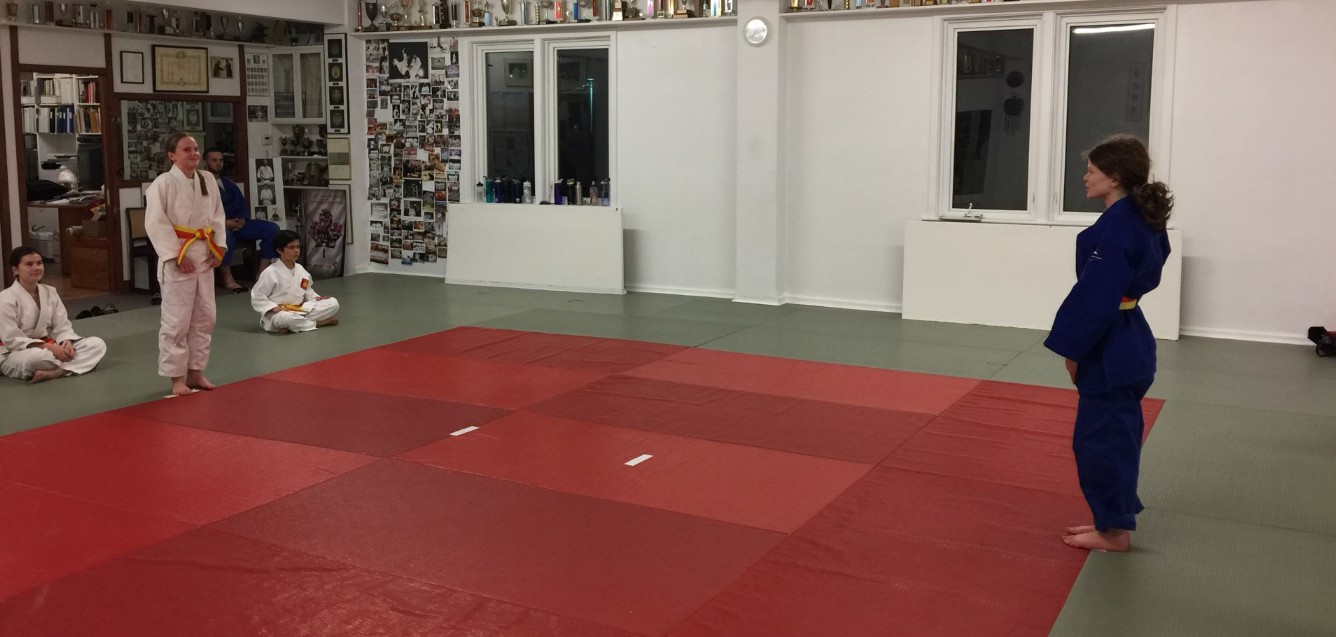 Competitors face each other.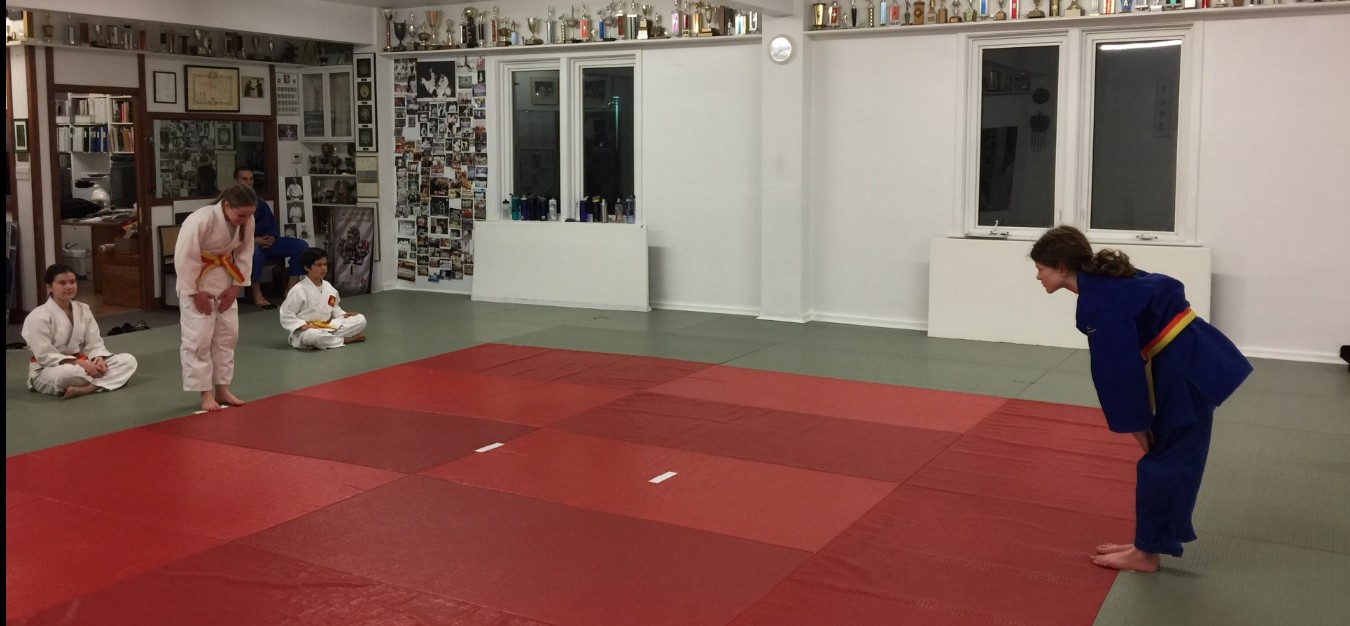 Competitors bow to each other before stepping onto competition area.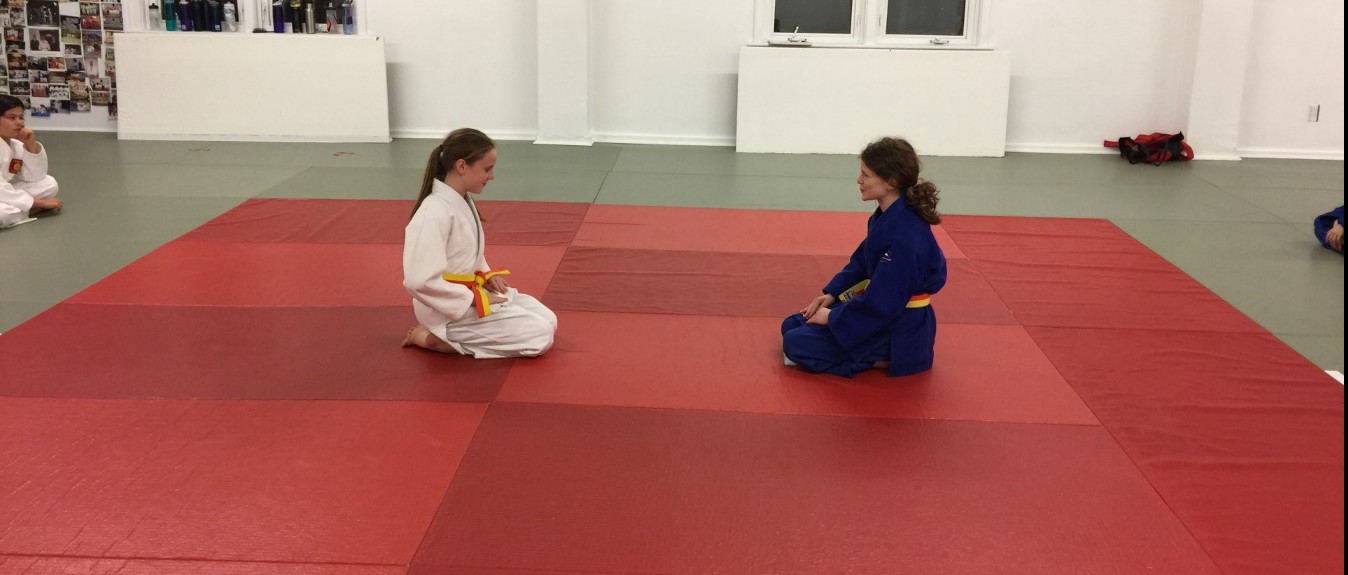 Competitors kneel at the centre of the competition area.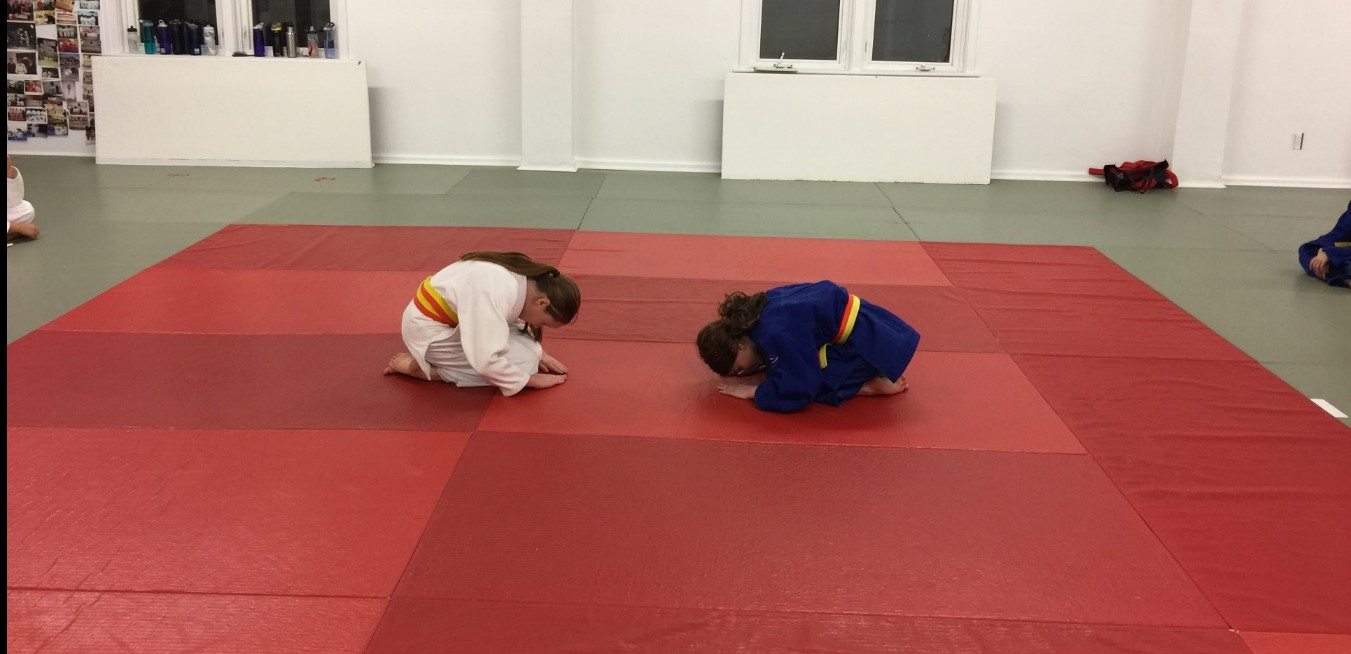 competitors bow to each other.



Competitors grip each other before referee starts the match.
Referee calls:
hajime: start
matte: stop, break
soremade: end of match, go back to center white lines (in seiza).
osaekomi: hold is effective, start timer for 15 seconds (Do not stop! Keep going!)
osaekomi toketa: hold is broken, stop timer
shido: penalty
hikiwake: tie (no winner)
ippon: full point
waza-ari: half point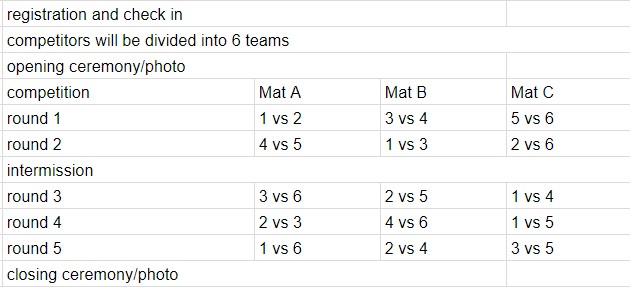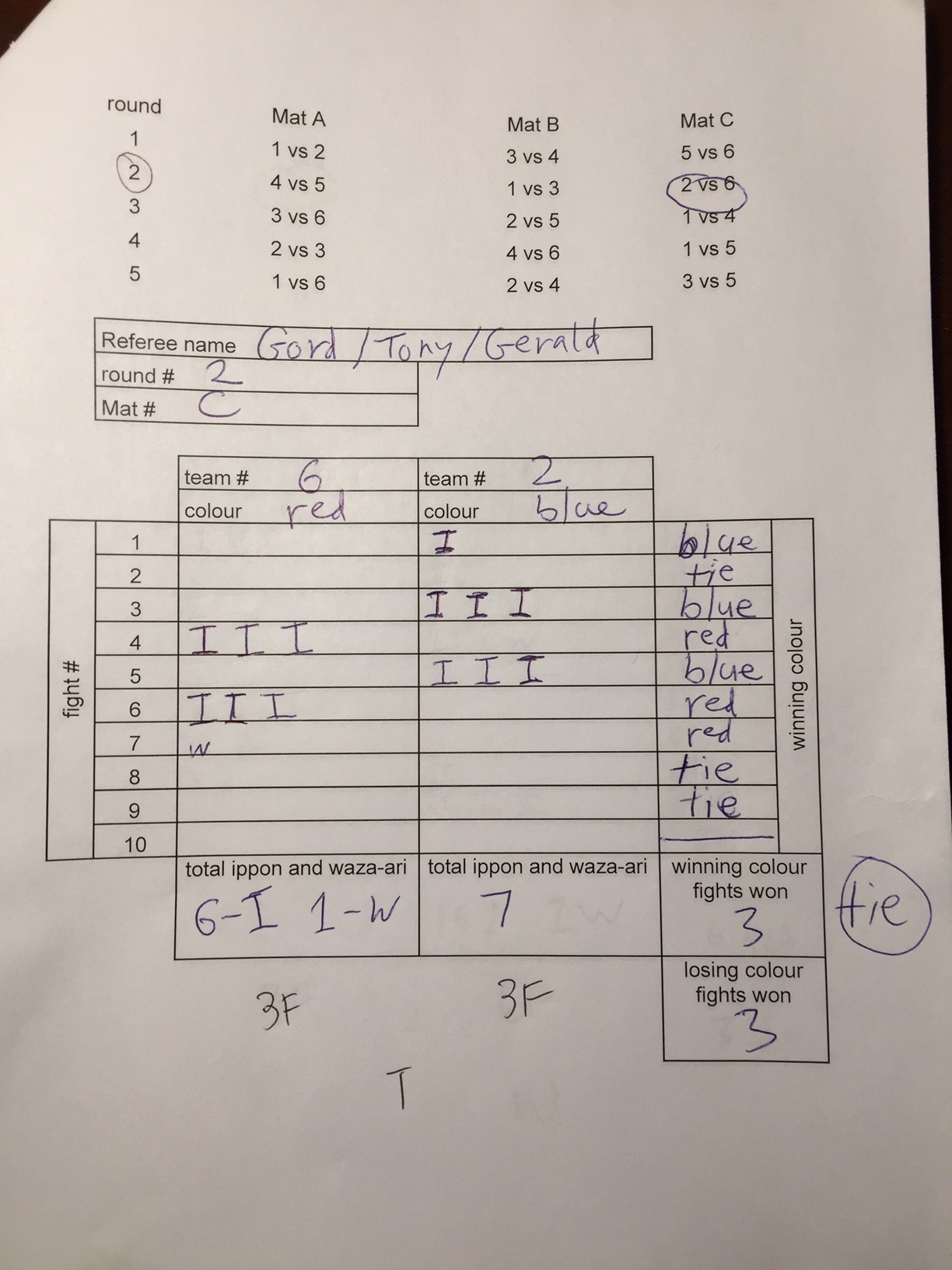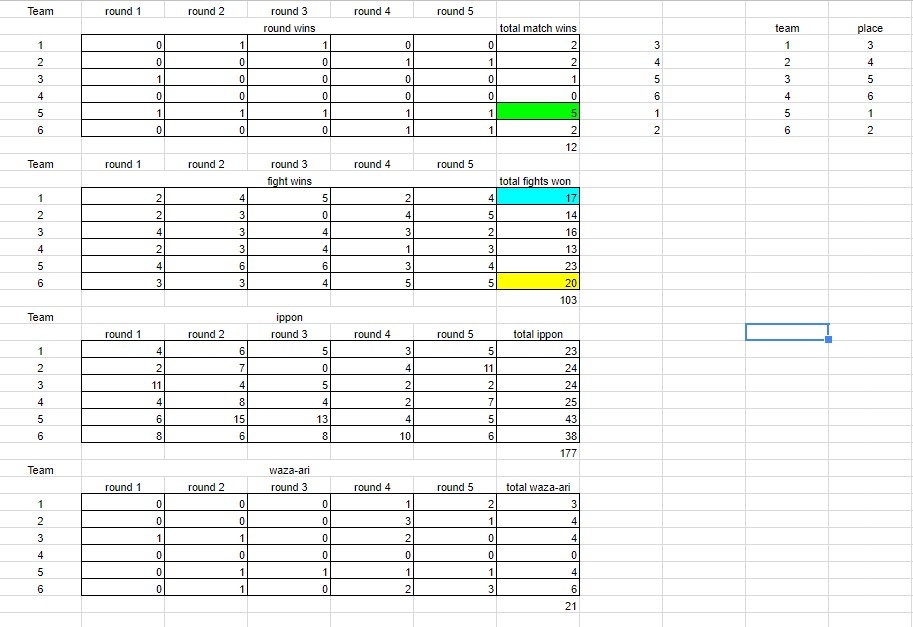 PHOTOS FROM PREVIOUS COMPETITIONS
gallery1
gallery2
gallery3
gallery4 Photos courtesy of Mark Guzewski and Davin Marion
gallery7 photos courtesy of Mark Guzewski and Philippe Owen