[previous page] [home page]
Sept. 10, 2016 (Toronto) Judo Ontario Awards Gala
2015 Most Outstanding U18 male Athlete Benjamin Kendrick


Ben before a U21 match in Romania August 1, 2016.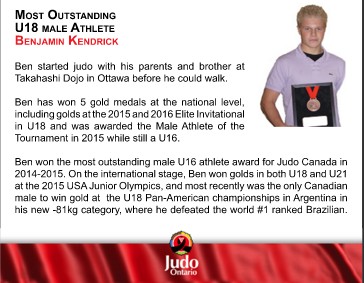 Ben started judo with his parents and brother at Takahashi Dojo in Ottawa before he could walk. Ben has won 5 gold medals at the national level, including golds at the 2015 and 2016 Elite invitational in U18 and was awarded the Male Athlete of the Tournament in 2015 while still a U16. Ben won the most outstanding male U16 athlete award for Judo Canada in 2014-2015. On the international stage, Ben won golds in both U18 and U21 at the 2015 USA Junior Olympics, and most recently was the only Canadian male to win gold at the U18 Pan-American championships in Argentina in his new -81kg category, where he defeated the world #1 ranked Brazilian.
from JUDO ONTARIO AWARDS GALA Sept. 10, 2016
[previous page] [home page]